Employee Stories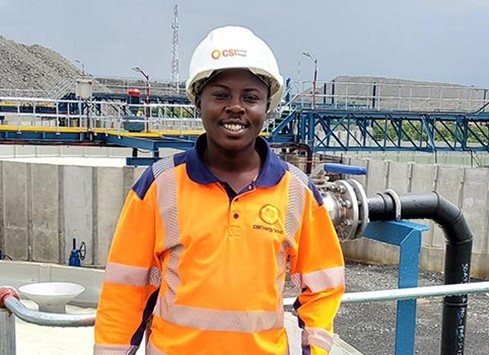 Welcome to the Employees Stories, where we talk to #HumansOfCEG from different parts of the organisation and an opportunity for you to discover their outlooks on life at CSI Energy Group. Today's post features Edgar John, Project Engineer

Get to know Edgar

My CSI Energy Group story

My journey at CSI Energy Group started back in 2017 when I joined as intern and undergraduate student as part of my degree studies obligations. Once my degree completed, I joined back the organisation in 2018 as a Trainee Project Engineer through their internship Program and later promoted to Project Engineer position. Currently, I am assigned at Kinyerezi I 185MW Extension Project site as a QAQC Mechanical Engineer.

My job at CSI Energy Group

My job is to measure, monitor QAQC organisation/client's applicable codes/standards, assure quality, control quality, ensuring products and services meet our client's expectations and all quality standards.

A day in my life

My day starts at 5:00 am and my morning routine does not have a lot of "to do's" but starts with simple exercise to wake up my body and mind, followed by a cold shower. I'm then ready to hit the road to work. I get on-site by 07:30am, mostly by public transport and sometimes private ones, depending on my workstation and activities planned for the day.

The first thing at work is to attend a Toolbox Talk (Safety) meeting and then followed by a meeting with fellow colleagues from the QAQC department to discuss what are the activities and assignments for that respective day. Once meetings done, I can then get to my desk attending emails and start with the planned tasks of the day.

My favourite part of being at the construction/energy industry is that not two days are similar. Every day has its own challenges and opportunities, which makes the industry vibrant and work life exciting.

My day ends at 04:30pm and when back home, I enjoy reading a book, the latest one I read was ''Atomic Habits''. It has taught me about the importance of small habits, consistency, time keeping, self-discipline, good planning, and preparation. All valuable lessons that can help me to achieve my goals. Else, I chill in front of the TV or get online, watching documentaries and latest news to stay connected to what's happening in the world.

What is your educational background?

I hold a Bachelor of Engineering in Mechanical Engineering from St. Joseph University in Tanzania and I am a registered Professional Mechanical Engineer with the Engineers Registration Board.

What makes you proud working at CSI Energy Group

First thing that comes to my mind is working alongside, a group of diverse individuals with different backgrounds and seeing successive major projects being handed over, up to international standards, to clients and knowing that I was involved in that.

What do you like about working in an international organization?

It's a dynamic environment, and the industry we are in makes it even more interesting! Every new day is a new challenge with new opportunities. I had the chance of working on 4 major projects with more than 150 people from different nationalities. The four projects I have been directly involved in since I was an intern are Julius Kambarage Nyerere International Airport Terminal 3, Kinyerezi II 240MW Combined Cycle Power Plant Project, North Mara Gold Mine Brine Treatment Plant Project, Kinyerezi I 185MW Extension Project and TAZAMA Pump Station Rehabilitation Projects. For me, this is an incredible opportunity and enriching experience.