Employee Stories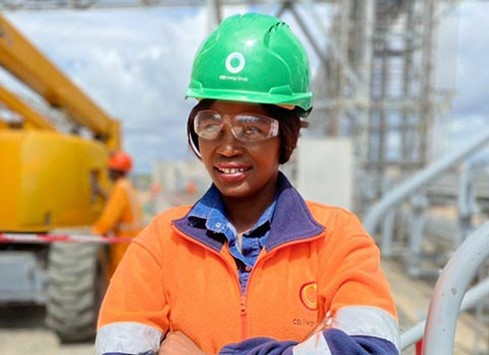 Welcome to the Employees Stories, where we talk to #HumansOfCEG from different parts of the organisation and an opportunity for you to discover their outlooks on life at CSI Energy Group. Today's post features Christine Nafula, Project HSSE Lead

Get to know Christine

My CSI Energy Group story

My journey at CSI Energy Group started back in 2017 when I joined as HSE Officer for the Olkaria III Ormat project, the construction of a Geothermal Power Plant in Naivasha, Kenya. This project which lasted for 6 months, included steel erection, piping and installation of equipment. Then, I was given the opportunity to serve as Assistant HSE Manager at the Olkaria 1 - Construction of Additional Unit 6 Geothermal Power Plant project in Naivasha, Kenya for Kengen. This project, which included civil works, steel erection, piping, and installation of equipment, lasted for 2 years. Next, I was embarked on another major project, and flew to Tanzania for the Kinyerezi 1 Extension Project as Project HSSE Lead.

My job at CSI Energy Group

As Health Safety Security and Environment Lead, I work together with the HSE Officers to ensure safe execution of tasks. This position plays a critical role in promoting a positive safety culture as well as developing, implementing, and administering effective health, safety, and environmental programs across all aspects of the different projects we work on. Part of my duties is to ensure activities are being conducted based on our HSE Policies and procedures, Incident investigation, Workplace inspections, and CSI Energy Group overall HSE Reporting.

A day in my life

Early birds catch the worms as they say! I wake up at 03:30am for my online Safety studies which lasts for about 1 and half hour. Then, mother duties pop in! I have 3 kids; a son of 14 years old and a daughter of 6 years who are currently staying with their grandmother and auntie in Naivasha, Kenya and a son of nearly 2 years, who is currently with me in Tanzania. So, every morning at 05:00am, I call the eldest ones to wake them up and motivate them to get ready for school. It's then time to call my husband, who is also in Kenya as he is currently involved in project there and wish him a productive day.

I have a scholar nanny who reports at 06:30am, which means that I get busy in the kitchen before she arrives to look after my son as I go to work. At 07:15am, the company vehicle picks me from my hotel to site, which is a 5 minutes' drive.

The days at work can get busy, therefore, I grab this silent moment opportunity to meditate and reflect on what need to be done for the day. I check up my to do list (which is prepared the day before) and make sure everything is listed and well planned. Then, I put on my PPE; helmet, safety goggles, reflector and safety shoes and get a five-minute morning chat with the HSE team – we joke and laugh a lot which a good start for the day.

Work starts at 07:30am with a Toolbox talk. This is conducted every day in the morning for 10 to 15 minutes depending on topic and issues observed on the previous day. We issue work permits but before that work assessment must be conducted, hazards that could be found when performing tasks and mitigation measures that supervisors need to put in place to ensure safe execution of the activity. We have daily coffee meetings with the consultant, CSI Energy Group's teams and subcontractors to address work plans/progress.

The rest of the day is continuous monitoring of activities including high risk activities currently commissioning works for First fire of Gas Turbine Generators, Work at Heights using scaffolds, hot works, confined spaces etc. safety induction to new workers or visitors, workplace inspections including housekeeping, electrical equipment, scaffolds etc, advising team where required based on the company's safety procedures and attending meetings where required. We have a lunch break at 12:30pm to 01:30pm, during which I normally rush home to check on my son and breastfeed while having lunch prepared by the nanny.

The day ends at 04:30pm, after which I go home to my some and escort the nanny to the bus station. My son likes playing outside, therefore I'll take him to the neighborhood for one hour, for him to play with his mates. Once done, we go back home, and my home exercise can start. I do use a Female Fitness APP on my phone. At 07:00pm, it is chill time, we have a shower, have dinner, and video chat with the family. Of course, my daughter must have something to complain about her brother and friends at school! During these chats we will check their homework and then bid bye for the night. I then have my bible study, pray, watch my son's favorite cartoon, and retire to bed by 09:30pm.

In what ways do you see CSI Energy Group as innovative and sustainable company?

I am super proud of my team, and CSI Energy Group as a whole. Together, with different mindsets, but same values, we promote a safer and healthier environment for the communities we serve. The industry we are in is very dynamic and agile, if you don't innovate, you fall behind. And that's what I like with CSI Energy Group, as we are now in a diversification journey, offering sustainable solutions to the energy sector.

How would you describe the company's relationship with local communities?

Excellent! It's good to know that if an organization do not build good relationships with the community they work in, this can lead to stop of operations, uncontrolled strikes leading to serious property damage and injuries etc. At one of the projects, I worked on, I have seen the Projects Director, Mr. Mike Huth, getting to have one-on-one discussions with the community leaders in Olkaria, Kenya. These guys are called "chairmen". Visit Olkaria and ask the "chairmen" about the projects Director and all of them know him. Our former Project Manager used to even visit the locals, anytime there would be a concern, he would get involved, listen to them and find solutions.

CSI Energy Group came up with a strategic and sustainable investment linked to projects. Most companies would donate food, clothes etc. which is also a good initiative, but CSI Energy Group came up with a long-term investment by creating job opportunities, job training, workplace education. Currently, on the projects we work on, you can get local scaffolders, welders, grinder men, HSE Officers, managers, carpenters, masons etc. CSI Energy Group also empowers women in the community by creating opportunities.

How do you see yourself in 10 years' time?

I believe women are leaders everywhere, and that's how I see myself, as a great leader. I see myself owning a company that will help in building and empower other women in the society, I see myself as a great wife and mother to responsible and disciplined children. I see myself as a strong woman who will continue to break down walls and defy stereotypes.